CT ABRSM Experienced Teacher of Trumpet and all Brass Instruments.
Trumpet teacher Bob Spiller, living in Yeovil, Somerset, has over thirty years' experience
of teaching brass instruments from beginners to advanced students of all ages.
A professional musician with a wide range of teaching and playing ability from Rhythm and Blues, Big Bands, Jazz Bands, Brass Bands, Concert Bands, Orchestra's, Brass ensembles and solo playing.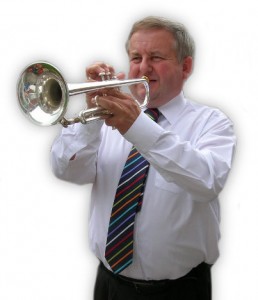 Having experience of teaching most brass instruments including trumpet, cornet, flugal horn, tenor horn, french horn, trombone, baritone, euphonium and tuba.
All students are offered a comprehensive lesson with all aspects of instrumental playing covered, from warm-ups, practising, techniques of playing and performing.
If required students will be entered for graded examinations with The Associated Boards of the Royal Schools of Music and will be taught all aspects that are required, including sight-reading, and aural training.
Bob is also an experienced conductor of different types of bands, including Concert Band, Big Bands, Brass Bands and Brass Ensembles.
Currently Musical Director of Berties Big Band.
Contact me on mobile 07976 526725 or use the Feedback Form.
---
Also click here for an experienced violin teacher.
Why not head over to my online shop, musicalgiftsonline.co.uk. It has a fantastic selection of musical themed gifts and I'm adding new items all the time!